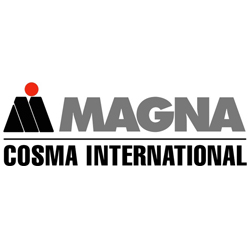 Cosma International
Production Operator third shift
Liberty, MO
Magna / LMV Automotive systems a division of Cosma provides a comprehensive range of body, chassis and engineering solutions to global customers. Through our robust product engineering, outstanding tooling capabilities and diverse process expertise, we continue to bring lightweight and innovative products to market.
We currently have a number of opportunities on our third shift for our Production Operators position.
This opportunity is at our facility in Liberty MO.
Summary:
Produces a quality product by operating assigned equipment.
Job Responsibilities: (This job description in no way implies that these are the only duties to be performed in this position. Employees will be required to follow any other job-related instructions or to perform other job duties requested by their manager.)
Operates equipment assigned per standard work instructions (at the rate) and completes related paperwork accurately. 
Responsible for the Quality of parts produced and reports any non-conforming parts to Quality and leadership immediately.
Completes safety inspection of equipment as required and reports any machine problems to leadership immediately.
Completes any documentation necessary for the operation of the equipment, including Quality, safety, and product identification.
Recommend proposals for improving products, processes, systems, productivity, and work environment (Continuous Improvement Process).
Maintains a good working relationship with his/her fellow employees and keeps his/her supervisor advised of conditions within the work area.
Complete scheduled work and tasks within time allotted or notify leadership when unable to do so.
Input data into the computer if necessary.
Follows and supports LMV Automotive System's and Magna's operating principles, including:
Magna Employee Charter – Operating under its principles by treating all employees equally, fairly, and with dignity and respect.
Open Door Policy – Solves issues with two-way, open, and friendly communication.
5S – Maintains and promotes good housekeeping by following the philosophy "Everything has a place. Everything in its place".
Safety First - Obey the plant's safety rules and procedures by wearing PPE at all times and immediately addressing all safety concerns. Promotes an environment where zero injuries are the expected standard. Operates all equipment in a safe manner.
Company quality and environmental policies.
Core values – Treat all employees equally, fairly, with dignity and respect, without favoritism in accordance with company values.
Supports efforts to achieve department and plant goals on Employee Opinion Survey.
Performs other duties as assigned
Qualifications: (These qualifications represent the minimum requirements of the position. Employees will be required to possess the ability and aptitudes to perform the duties proficiently.)
Education and/or Experience
  High school diploma or GED
Knowledge, Skills, and Abilities:
  Ability to work well with others and build positive relationships. 
  Ability to meet production requirements.
  Ability to comprehend written instructions.
Physical Demands:
Continuous walking or standing.
Lift 50 pounds.
Repetitive motion.
Environmental Conditions:
Normal factory environment.
Environmental, Health & Safety:
Support and comply with all TS16949 & ISO14001 procedures and work instructions.
Support a safe and healthful work environment that is free of recognized hazards for all employees, contractors, and visitors.
Cooperate with all local, state, and federal agencies, such as OSHA or the EPA, in the event of an inspection.
Know and follow all applicable EH&S Policies and Procedures.
We are an EOE Employer
hfik427v52xe
142991610